Guest Speakers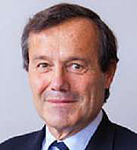 Professor Gilles Walch
Centre Orthopedique Santy, Lyon
​Secretary General of the European Society of the Shoulder from 1987 to 1995, he became President in 2005.
Member of the office of the French Society of Orthopedic and Traumatological Surgery (SOFCOT) since 2011, he is Vice President and will become President in November 2014.
Member of 5 Scientific Societies, he has published more than 200 articles in national and international journals and has given more than 500 lectures worldwide.
The anterior and posterior instabilities of the shoulder, the ruptures of the rotator cuff, the shoulder prostheses have been the basis of his daily activity for 25 years. He has been dedicated exclusively to shoulder surgery for 20 years.
Titles :
– Former Internal Gold Medal
– Former Hospital Assistant
– Head of Clinic at the Faculty
 Societies :
– French Society of Orthopedic Surgery and Traumatology (SOFCOT)
– European Society of Shoulder and Elbow Surgery (SECEC)
– French Society of Arthroscopy (SFA)
– American Shoulder and Elbow Surgeons (ASES)
– Member of the French College of Orthopedic and Traumatological Surgeons.
– Honorary Member of the Swiss, Portuguese, Greek and Peruvian Orthopedic Societies

Jo Gibson
Clinical Physiotherapy Specialist
Jo Gibson is a Clinical Physiotherapy Specialist who has specialised in rehabilitation of the Shoulder since1995 and works at the Liverpool Upper Limb Unit and as a Consultant in private practice. She lectures Nationally and Internationally about assessment and rehabilitation of the shoulder complex and is a Consultant to several elite sports teams regarding shoulder rehabilitation.  Jo is an Associate Lecturer at Liverpool University, has published in Peer-reviewed journals, written several book chapters and         co-authored National guidelines for the management of specific shoulder pathologies.